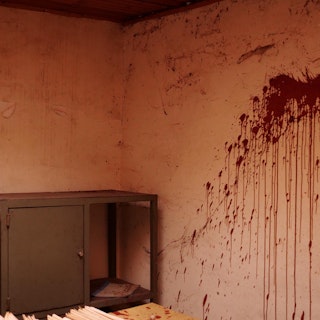 The Agony of a Border Town
The Agony of a Border Town
25 years after the signing of the Dayton Agreement ending the Bosnian War, a border town in western Serbia with a mixed population of Serbs and Bosniaks is still bleeding from its many wounds. From the fall of Yugoslavia and the war in neighbouring Bosnia and Herzegovina to modern-day economic collapse, its inhabitants have experienced four decades of tragedy that have profoundly affected the shape of the city: falling apart, destitute and dreading an even darker future...
12 November 2020
Batan climbing stairs to the Prijepolje rail station's central platform
During the height of the Yugoslav Wars, on February 27th, 1993, under the snow of a gloomy winter morning, the JZ 671 train left Belgrade to the Montenegrin coastal city of Bar shortly after 11am, with nearly 1,000 passengers on board. Among them were a few men from the Bosniak minority of Serbia and Montenegro, commonly called Sandžaklije, whose sole distinction from their Serbian and Montenegrin fellow passengers was their Muslim name and heritage. On that day in 1993, war in neighbouring Bosnia and Herzegovina was raging, and even though they were being spared from the worst atrocities against Muslims in the region during that period, many Sandžaklije were still the victims of state terror that saw widespread official discrimination and the ethnic cleansing of entire villages. The general breakdown of law and order in the Balkans gave rise to a stifling atmosphere in which all minorities were threatened, a regional tension that was palpable on that cold February day in the JZ 671 train, whose path ran along the Bosnian border and even crossed it at some point, passing through a single station named Štrpci (pronounced Sh-tirp-tsee).
Excerpt from an article in the Montenegrin newspaper "Monitor", published on 27 February 1996, where families of victims of the Štrpci massacre call on Serbian authorities for answers
At 3:48pm, upon entering Bosnian territory, the train was stopped in the hamlet of Štrpci by members of a Serbian military unit called "The Avengers". A group of armed men wearing camo uniforms jumped up the carriages and begun controlling the passengers' identity, shouting Muslim passengers' names after checking their ID cards or passports. "Bakija! Who's Bakija? Hanić... move, move. Rastoder... step out!" and ordering the men to come with them. From 16-year-old Senad Đečević to 59-year-old Adem Alomerović, every Bosniak man was being taken out silently while the whole train watched in confusion, mostly in fear but with a few travellers still pleasantly thrilled. Witnesses recall that a drunk passenger even jumped out on the snow in a shirt, shouting "Slit their throats! Slit the Turks' throats!". A retired Yugoslav National Army officer and Croat named Tomo Buzov stood up and asked what this was all about, why they were targeting civilians. He was told to sit down but he refused, so he was taken too. The JZ 671 train resumed its journey quietly while twenty of its passengers were being robbed and physically abused. The militiamen took their prisoners to a village near Višegrad in Bosnia and Herzegovina where they tortured and killed them in a burned-out house near the river Drina. Except for four victims, their remains have never been found. It was February 27th, 1993. As of today, only two Bosnian Serbs have been convicted of the Štrpci crime.
Prijepolje train station's platform clock
37 kilometres away from Štrpci, in the heart of the Lim Valley in Serbia lies the border town of Prijepolje (pronounced Pree-yeah-Paul-yeah), where my father, my grandparents and all the ancestors I have ever heard of came from. This is where I was born in 1989. This is also where nine victims of the Štrpci massacre came from.
I remember my father telling me about this and a story of a Bosniak man he knew was on that train, a man named Ismet, who could have easily been the tenth victim of the massacre from our town but who miraculously escaped this doomed fate. After Ismet arrived in Prijepolje on that day, pale as a ghost, he went home and explained to a few friends and neighbours what happened. "How did you get away?" they asked. "I was going to Užice to buy a spare part for a water-meter for my boss, who's a Serb", he said. "When the militiamen entered the carriage and asked for IDs, I told them I had forgotten my passport, and the only identification paper I could show was a store bill with my name on it". Naturally, the name on the bill was not his own name but that of his boss's. After seeing the Christian Orthodox, untainted patronym, they let him away.
"Those are war-time stories, some had luck and others did not" my father would remark, sighing every time he told the story of Ismet. And then, like a cue, my mother would immediately change the topic to something lighter, begging us not to mention the war anymore.
Cigarette butts on the crushed stone steps to Prijepolje's train station's platform
Time Remembered
Fast-forward to June 2020 and I am sitting on a stool at a fast-food kiosk, in front of the very train station where people were crying over their missing relatives 27 years ago. Next to me sits my neighbour Erol (probably named after Erroll Flynn, but who everyone calls Batan), the grey weather shines a sad light on our afternoon and there is no one in sight except for two workers fixing a bench. I look at the train station's dilapidated façade and ask Batan if it is still open. He nods, finishes his sandwich and then walks me through the entrance of the building, a dusty room with a spiral staircase leading to a permanently closed restaurant that once welcomed up to a hundred and fifty hungry customers. All walls are dirty from years of accumulated soot and dust, littered with graffiti and stickers glorifying the Red Star and the Partizan, the two main football clubs from Belgrade. "Take a photo of the toilet" says Batan, smiling and pointing at a repugnant restroom. "There's a woman who's supposed to sell tickets, but I don't know where she is. You want to see the train tracks?" he asks. Walking through a dark tunnel under the platform, I photograph his shadow under a red light but the picture comes out blurry. Batan looks around sadly, catches my gaze just above my camera and laments. "It's a shame bro', we'll end up just like Priboj". He is talking about the neighbouring town of Priboj, with its old automobile factory strewn with broken windows and cracks. The sole mention of its name sounds like a nightmare. Up on the empty platform, everything seems bombed out, as if an explosion hit it yesterday.
Prijepolje's train station's central platform
"So, this is where that train arrived" I think to myself, looking at the train tracks, and this is also where we left our hometown with my mother in January 1993, a month before the Štrpci massacre. Batan and I wander aimlessly from platform to platform, surrounded by desolation. I silently take more photos of a few decrepit structures and patches of grass growing through the concrete, defiantly reclaiming the land, until I get tired and hungry. We leave this shadowy place behind, drive back to the Vakuf, our neighbourhood, where I get a ten-piece portion of hot čevapi at Salko's. As we are sitting on a table outside, neighbours, friends and family pass by and greet us. Batan lights a cigarette.
Batan smoking a cigarette in front of Salko's bakery
Summer is usually the time of the year when the diaspora comes back to town for the holidays, returning life to the streets. This year, the COVID-19 pandemic has kept people back home here and there, nevertheless in quarantine. In the beginning of March, the Serbian government declared a state of emergency to answer the health crisis and a curfew was imposed in mid-April. When the situation officially improved, the curfew was quickly lifted but the decision was criticised by the population as many assumed that the government took it in order not to tamper the organisation of the upcoming elections. In spite of the now-authorised freedom of movement, a ghostly feeling of dismay has conquered the streets and the whole town feels just like it always did during the off-season: like a place that used to live and thrive but has now been conquered by the slow and unrelenting process of decay, without any hope of turning back.
Women wearing pink in Prijepolje
Crossroads, looking East and West

Prijepolje is a border town of roughly 36,000 inhabitants, nestled in western Serbia. It is a place where East met West throughout history, most notably in the 15th century when the Ottomans conquered the region. A city that was demarcated by the border between the Ottoman Empire and Austria-Hungary upon the annexation of the Balkans by Austria-Hungary in 1878, Prijepolje is famous for being home to the Mileševa Christian Orthodox monastery, where the first ruler of Bosnia, King Tvrtko 1st was crowned, and where Saint Sava's remains were held for almost four centuries. The city is also home to twelve mosques and seven Islamic places of worship (mesdžidi), two Orthodox churches and a small Catholic chapel. Today, Prijepolje has a mixed population of Serbs (52%) and Bosniaks (44%), with a Bosniak majority in the city itself while Serbs outnumber the Bosniaks in rural areas.
The Mileševska River as seen from the Vakuf
Venturing into the field of ethnic politics with locals, most will tell you that Serbs and Bosniaks live in harmony in Prijepolje. This is true, inasmuch as everyday life is concerned, and few people complain about inter-ethnic tensions except for the odd ill-fated lovers whose sweetheart bears different ethnicity (mixed couples are very rare). However, when it comes to key administrative positions and in spite of an almost even distribution of both ethnic groups in the town, Serbs make up the overwhelming majority of every administration's employees, from police to schools, hospitals and museums. This situation can result in political tensions, with local Bosniak organisations and political parties complaining about discrimination and its consequences. On top of that, there is a pervasive, intangible overtone of historical "spheres of influence" in the Sandžak region, as Serbs cherish their Slavic roots and their ties to Belgrade and even further, to Mother Russia, while on the other hand Bosnia and Herzegovina and Turkey have been standing as big brother figures for many Bosniaks since the fall of Yugoslavia and the recent rise of Erdogan. Sandžak is therefore a place where history is not relegated to the past but is forever alive in the present, where younger generations are often reminded of prior atrocities or glories, in an environment where verbal storytelling and word of mouth outweighs other information channels and where regional influences are strong.
People gathering at a right-wing rally
Being a border town, Prijepolje is located an hour's drive away from Bosnia and Herzegovina and half an hour from Montenegro, at the crossroads of what used to be two important regional transport routes. It is a place where the Belgrade-Adriatic road intersects with a regional road that follows approximately the same route as the Via Drine, an ancient Roman and Ottoman road. According to historical sources, Prijepolje developed as a road settlement for caravans since the Via Drine traversed both mountainous and heavily forested areas, which could prove dangerous to travellers. Nowadays, the only important route crossing the city, with trucks full of merchandise and tourists heading to the Montenegrin shore, is the old Belgrade-Bar road. But even this dizzying dance of vehicles, with their passengers spending money on local businesses, is set to vanish soon, depriving the city of its lifeline for economic survival.
A teenager driving a toddler past a closed-down kiosk

In 2012, the construction of a brand-new motorway named Miloš the Great started in Serbia. Designed to connect Belgrade to Bar (Montenegro's main seaport) and crossing the Montenegrin capital of Podgorica, its final route was settled by Serbian and Montenegrin authorities in 2018. Contrarily to the Belgrade-Bar railway, the Miloš the Great motorway will pass way east of Prijepolje, right between the town of Sjenica and the city of Novi Pazar. This raised concerns among locals who are now fearing that the modern, fast and safe road infrastructure will naturally attract the usual travellers away from Prijepolje, as well as the economic activity associated with their presence and thus, likely perpetuate a long-term trend and drag even more people out of the city.
Edis smelling his neighbour's roses

"Just like the dinosaurs"
Back to June 2020, on the terrace of an empty restaurant overlooking the Lim river in Bistrica, a neatly-groomed waiter dressed in a white shirt and black tie brings my cousin Isak the menu. Sitting next to me, my other cousin Demir stretches his colossal arms and tells me how he calls Northern American customers daily to try and sell them electrical appliance, furniture and all kinds of consumer goods. He works for MDG Computers, the brand-new call centre company in town, run by a wealthy Serb from Canada who invested in the construction of a two-story building that welcomes nearly 300 employees every day. "It's the only thriving business in town. That and the raspberries. But you can't count on raspberries" says Isak and indeed, in June 2018, local farmers decided to block roads in protest against the sharp fall in prices of raspberries. These farmers were often from unemployed, ex-factory worker backgrounds, who found a way out of poverty by turning to agriculture, in turn investing massively in raspberry production. This proved fruitful, until central authorities started fixing the price of raspberries. "Private initiative is the only way you can earn a dollar here, you can't count on the State to help you", complains Isak.
After two bites of goulash he smiles, looks to the empty seats in the restaurant and says ironically "we're just like the dinosaurs, except our extinction is slow". I watch the river as images of soon-to-be extinct species pop into my mind. A few toothless smiles on wrinkled faces wearing dated but well-cut clothes, a couple of factories in ruins and run-down buildings painted with graffiti, all relics from a once-developed past. "All the good things that are still standing are thanks to Tito" — a commonly echoed sentiment, overheard in the area. Former Yugoslavia is present both in spirit and substance, but as older locals watch their home crumble down powerlessly, the youth struggle to cling to a glorious past with a false nostalgia for something they never knew and often have no choice but to flee and search for a better future. Fifteen years ago, a survey already showed that 60% of youth wanted to leave the city and the situation has only deteriorated since. Those who are left behind remain witnesses to a quiet, sluggish exodus. According to the latest census in 2011, the municipality lost nearly 10,000 inhabitants between 1991 and 2011, more than one fifth of its total population.
Omerana and his son's Dogo Argentino
People from Prijepolje have been disappearing in waves. The earliest emigrants were countryside farmers sought out by Western economies for factory work in their booming industries in the 1960s, when Former Yugoslavia opened its borders to help reduce the unemployment rate. But the real core of the city started to crumble during the collapse of the Yugoslav economy in the 1980s, followed by another major exodus during the Yugoslav Wars in the 1990s, then during the NATO bombings in 1999, and again after the financial crisis of 2008. Like many smaller cities in the world, but with a post-war, post-socialist twist, Prijepolje is a bleeding urban area that was once home to a lively economic and cultural scene. Artists gathered in the Dom Revolucije (House of Revolution), a 1979 building that was symbolically renamed the Dom Kulture (House of Culture) after the Yugoslav Wars. Workers built monuments to Tito's Partisans, one of them standing in the suburb of Jabuka, surrounded by overgrown grass, a giant oeuvre of concrete from a series which are now unanimously considered lost treasures of architecture. People built houses, buildings and factories where they all worked until they closed down. Today, the only piece of evidence of a former vivid life are stories told by older generations and a few YouTube videos, showing how the city once thrived.
A graffiti reading "Šešelj president", on the road to the city
A cleaner Prijepolje
After lunch, on our way back home, my cousin Isak drives alongside a concrete wall soiled by nationalist graffiti and political party acronyms painted one after and over the other, he points at them and says gravely "you see that wall? Right behind it, there's a wasteland which leads to the entry of a closed tunnel. The army owns it. Some say it's a nuclear waste disposal, but nobody knows. A guy tried to investigate it a while ago but nobody has heard from him since. People who live around Bistrica say they had a surge in cancer cases ever since the tunnel was built." In 2013, local news reporters were allowed by national authorities to enter the tunnel and be the witnesses of the unveiling of what turned out to be an oil and petroleum products warehouse. Still, many locals do not believe this version of the story given the pervasive mistrust of the central authorities compounded by endemic corruption and mismanagement.
The burning landfill at the entrance of the city
"Shoot this" says Isak, "this is our welcome sign to foreigners." I get closer to the window and raise my camera as I watch a 400-meter long, enormous pile of garbage pass before my eyes. In Prijepolje they call it the deponija, the landfill. "Weren't they supposed to fix it a few years ago already?" I ask, and my cousins laugh grudgingly. 30 to 40 tons of all kinds of waste have been dropped there daily for 50 years, burning constantly in terrifying silence. The inhabitants of the nearby Zalug area complain that they cannot open their windows or even dry their clothes because of the stench but the smell is not their only problem, as the accumulating pollution of the soil (even through the sporadic presence of heavy metals as a result of untreated drainage waters) is creating an ecological time bomb. To make matters worse, down the Lim river, untreated faecal matter and chemicals spew directly into the water since Prijepolje – in spite of its population of almost 40,000 – does not have a water-waste management facility. The environment is thus a major source of concern for its inhabitants. "For a cleaner Prijepolje" was one of the municipal election slogans plastered all over the city, ironically glued on all kinds of walls and places, but it is only a window dressing for a real solution. The only things from which the city is being cleaned of today are its youth and its most dynamic, intellectual and creative elements.
Stepping into tomorrow
In the Vakuf park, where a bust of Vladimir "Valter" Perić reminds the onlooker that the city has produced national heroes, groups of children play basketball, football and volleyball as packs of stray dogs fight for territory. The hungry and wounded animals cross the street in broad daylight, wandering from one abandoned building to another. Their presence has increased in the last few years, multiplying the number of incidents related to their aggressive behaviour, their loitering and the diseases they spread. Rumours even emerged about an insurance-based scheme used by some people to grab money from the government on the basis of false claims of being bitten. Their presence reminds the onlooker that the more humans are leaving the city, the more nature cannot help but fill in for them.
Kids sitting on a bench in the People's Heroes Park
– Epilogue –
As a silent witness of the passage of time, the Hisardžik Fortress sits on top of a steep hill in the outskirts of the city, overlooking a mosque holding a 400-year old Qur'an and a garden filled with ancient Ottoman tombstones buried in the grass. From that point of view, one can admire the mountainous landscape cut through by river valleys and reminisce over the numerous travellers who followed this sinuous path to reach either sides of civilisation. After four decades of turmoil, the inhabitants of Prijepolje have themselves become the ones who need to decide which way to go, symbolically joining the ancient pilgrims, merchants, ramblers and wayfarers who they traditionally welcomed and helped in their quest for a better future. East, West, North or South, wherever their fate carries them, their birth town will remain that fading place they visit like a cemetery full of ghosts, like a museum where works of art gather dust, like a place where their elders, their memories, their culture and history agonise in silence, buried under political apathy, ethnic disputes, economic crisis and tons upon tons of toxic waste.
Ottoman tombstones in the Hisardžik mosque's garden
--
All photographs by Mirza Durakovic
Text by Mirza Durakovic, edited by Karolina Smula
©2020 Mirza Durakovic